Meetings & papers

Newsletters

Conferences

Other papers by members
Why it's worth studying the American Civil War video
Readings - letters from home, camp and battlefield
Contact us

Membership application


Instagram
Welcome
I welcome you to our website on behalf of all our members. Our Round Table was constituted in its present form in 1999 following a number of meetings of a small group of people in Sydney with a common interest and fascination with America's Civil War.
Membership now encompasses a wide range of interests with most of our members having little or no formal academic studies in history but all with a desire to gain further knowledge and understanding of the events in 1860s America.
This Website contains copies of our newsletter, 'Sumter to Appomattox', a selection of the papers presented at our regular meetings and some other short papers prepared by our members on subjects of wide interest. I encourage you to access these materials - if you like them, tell your friends, if you don't like them, tell us!
Our meetings are every two months on a Monday. The normal venue for the meetings is: Roseville Club, 64 Pacific Highway, Roseville - close to the railway station. The meetings are scheduled to commence at 7:00pm, although members normally meet at the Club from 6pm for a bistro style meal and convivial discussion on matters of mutual interest.
The ACWRTA-NSW Chapter is a non-profit organisation depending entirely on members' annual subscriptions and contributions to support our meetings and conference programs, this website and our newsletters. Should you wish to learn more about our Round Table group please access the Contact Us part of this Website.

Ian McIntyre
Chairman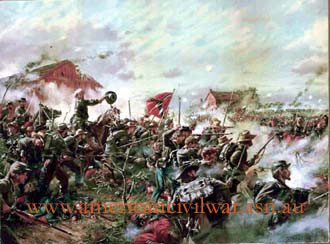 Barksdale's Charge at Gettysburg
- painting by artist
Don Troiani
- used with permission