Stephen T Smith, Consul General, United States of America
Stephen T. Smith has been in the Foreign Service of the United States since 1976.
He was born in Laramie, Wyoming, USA and spent his early years on his family's cattle ranch in Western Nebraska. He grew up in the state of Washington, and was graduated from the University of Washington in Seattle with a Bachelors Degree in Political Science in 1965. After
graduation he entered the Peace Corps, where he taught English as a second language to juniorhigh school students in Kandahar, Afghanistan.
After two years in the Peace Corps he joined the U.S. Navy, where he served for four years at USNavy facilities in San Diego, California, Key West, Florida and Asmara, Eritrea.
After his military service he then returned to graduate school, and was graduated with a Masters of Arts degree in Public Administration in 1975 from the University of Oklahoma. While in graduate school he met his wife to be, Monica E. McKnight, who was in law school at the time.
They were married in 1977, and consider suburban Washington, D.C. their home. In 1994, he was graduated from the U.S. National Defense (sic) University's Industrial College of the Armed Forces with a Master's Degree in National Security Affairs with a focus on energy policy.
In addition to several assignments to Washington, DC, Steve has had overseas postings in Tehran, Iran; Manama, Bahrain, Colombo, Sri Lanka; Tunis, Tunisia; Amman, Jordan, Cairo, Egypt, and most recently at the Coalition Provisional Authority in Baghdad, Iraq. He assumed his duties as Consul General at the U.S. Consulate General in Sydney, Australia in October 2004.
Steve speaks Farsi, Dari, and French.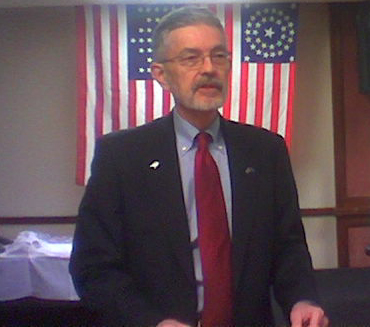 Stephen Smith speaking at the conference
Paul Spencer
Paul first found out about the Round Table in Australia from a park ranger in Fredericksburg, Virginia in 1987 and joined immediately he returned to Australia. He had always been interested in history, and, in particular, regarded Abraham Lincoln as one of the great men of history. Not unnaturally, this interest in Lincoln spilled into the Civil War, a subject that he continues to study in some depth 19 years later.
Paul has given many lectures and presentations for the Round Tables in both Melbourne and Sydney, and has been a presenter at all three Conferences of the New South Wales Chapter and most of those held in Melbourne.
His main interests aside from Lincoln and his assassination are Gettysburg, Shiloh, the Atlanta Campaign, and the small Virginia town of Brentsville, near Manassas. He was awarded a Certificate of Appreciation in 1998 by the Prince William County Board of Supervisors for his research on Brentsville during the Civil War.

John Cook
John Cook is a retired Public Servant with an academic background in educational measurement and testing. He worked for many years coordinating the operation of the NSW Higher School Certificate Examination and School Certificate programs. In "retirement", John has undertaken a number of educational consultancies both in Australia and overseas and is presently working for the Catholic Secondary Schools Association coordinating its Trial HSC exam program.
His interest in the Civil War had its beginnings after seeing the movie "Gettysburg" and subsequently reading Tony Horwitz's book "Confederates in the Attic". It only took his long-term friend, Paul Kensey, to invite him to one of the early meetings of the newly established NSW Chapter and he was "hooked". Arising from his army background in personnel management, John's Civil War interests are focused mainly on personnel and political issues.

Dr Angus Curry
Angus Curry comes from Melbourne, where he has lived his entire life. He began his Bachelor of Arts degree at La Trobe University in 1992 and graduated with Honours in 1996. His Honours thesis, which was supervised by Warren Ellem, one of the ACWRTA members from Melbourne, was titled The Trent Affair, the Secretary of State and Domestic Opinion and studied the manner in which the United States Government managed a serious diplomatic incident with Great Britain during the first year of the American Civil War.
After a year's break, Angus returned to La Trobe University in 1998 to begin a Master of Arts degree program by research which he subsequently upgraded to a Doctorate of Philosophy. His thesis, Echoes of a Civil War: The CSS Shenandoah and Her Officers, examined the ship's diaries and logs of the Confederate officers who served on this commerce raider in 1864 – 1865 and appraised the manner in which they recollected their experiences after the War. He completed his thesis in early 2002 and was awarded his Doctorate later the same year. Subsequently, Angus submitted a revised version of his thesis to interested publishers and, later this year, University Press of Florida
is to publish his book, The Officers of the CSS Shenandoah.
Angus continues his association with La Trobe University and is presently an Honorary Associate of their History program.
Dr Frances Clarke
Frances Clarke received her B.A. (Hons.) from La Trobe University, Melbourne in 1993, and her Ph.D. from Johns Hopkins University, Baltimore, in September 2001, before taking up a lectureship in the History Department at Sydney University.
She is currently working on a book titled "Sentimental Bonds: Suffering, Sacrifice and Benevolence in the Civil War North," which will be completed by the end of 2006. She has also written numerous articles, including: "'Let All Nations See': Civil War Nationalism and the Memorialization of Wartime Voluntarism," in Civil War History 52:1 (March 2006): 66-93; and "'Honorable Scars': Northern Amputees and the Meaning of Civil War Injuries," in Paul A. Cimbala and Randall M. Miller, eds., Union Soldiers and the Northern Home Front: Wartime Experiences and Postwar Adjustments (New York: Fordham University Press, 2002), 361-394.

Bruce Dennett
Bruce Dennett has been teaching history in the NSW State Education system for over thirty years.
He has a passion for his subject and has assiduously avoided promotion to remain in the class room. Bruce is the author or co-author of six textbooks. In addition to teaching at Baulkham Hills High School; he is a part-time lecturer at Macquarie University. He has won two NSW Premier's History Scholarships. The first took him to the United States in 2000, where he lectured on cinematic representations of the American Presidency, undertook extensive research at the Franklin Roosevelt Presidential Library, made a detailed study of the battle of Gettysburg and talked his way past the US Secret Service to obtain a personal interview, in Plains Georgia, with former
US President Jimmy Carter.
In 2005, after winning his second Premier's Scholarship, Bruce travelled to the United Kingdom where he undertook research on the Gallipoli Landing. He obtained conclusive evidence to refute the myth that a current, on the morning of 25 April 1915, had played any part in the location on the landing. The result of this ground breaking research is due to be published by the Australian War Memorial later in the year.
Bruce is currently completing research towards a Ph.D at Macquarie University.
Dr Gary Gallagher
Dr Gary W Gallagher is the John L Nau III Professor in the History of the American Civil War at the University of Virginia. He earned his MA and PhD in history from the University of Texas at Austin.
A leading Civil War historian, he has authored a number of books including, The Confederate War and Lee and His Generals in War and Memory and has been the editor of a number of other books with a Civil War theme. Gallagher has written over 100 articles for journals and magazines and has been the recipient of a number of research and writing awards.
Paul Kensey
Paul is a Civil War enthusiast of long standing. He claims that his interest in the American Civil War was first awakened when, as an eight-year-old boy in 1942, his then future brother-in-law took him to the movies to see Santa Fe Trail and They Died with Their Boots On. In the early 1970s his interest in matters Civil War began to flourish, first through studying the Shenandoah Campaign as part of the Australian Army's promotion exams and later with his first of a number of Civil War battlefield visits, this fascination of Custer continued unabated.
It was always his intention to visit the Little Big Horn Battlefield in Montana where Custer met his end but it was not until 2000 that he was able to fulfil this wish. Having a really knowledgeable local guide assisting him, he was able to "walk the ground", soak up the eerie ambience of the battlefield and gain an appreciation of the battle from both sides as he had been able to do previously with his Eastern and Western Battlefield visits. In recent years, Paul has led a number of Civil War tours with members of the ACWRTA.
He is presently Chairman of the NSW Chapter of the ACWRTA, a position he has held since the Chapter's formal inception in 1999

---
More details are available at: Conference Program